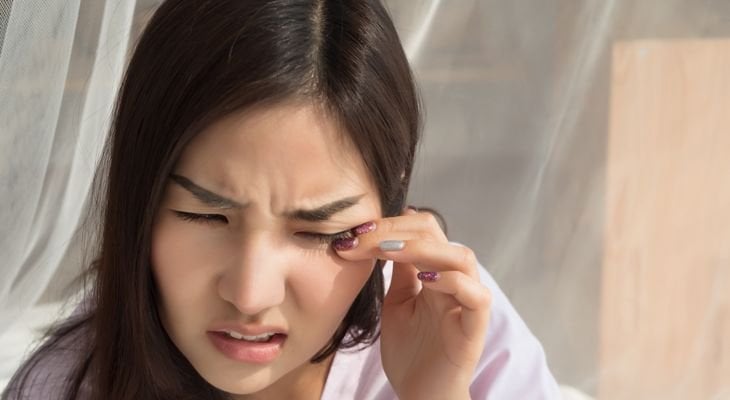 Eye pain is not normal and should always be checked by your eye care professional. It is especially urgent if the pain comes with any of the following symptoms:
The pain is intense and sudden.
Your eye is injured or is being irritated by a foreign object.
The pain comes with sensitivity to light or blurry vision.
You have a history of glaucoma.
The pain is accompanied by redness and discharge.
You recently underwent any type of eye surgery.
Diagnosis and Treatment of Eye Pain
The location of the eye pain is a prime indicator of what the trouble might be. For instance, pain that feels like it is coming from within the eye or from the surface of the eye (the cornea), could indicate the following problems:
A foreign object stuck in the eye. Sand, wood slivers, metal shavings, glass, sand, and many types of liquids can irritate the extremely sensitive cornea.
Corneal abrasions. These occur when the surface of the eye is scratched. While minor abrasions can heal on their own, many lead to infection without proper treatment.
Dry eyes. While not usually a medical emergency, if your eyes are not tearing enough for proper lubrication of the cornea, this can lead to corneal abrasions.
Conjunctivitis or "pink eye." This infection and swelling of the eyelid membrane can be very contagious.
Bacterial or fungal eye infections such as Acanthamoeba keratitis.
Inflammation of the iris, called "Iritis."
Poor contact lens hygiene or poorly fitting lenses.
Any direct injury to the eye, such as being scratched by an animal, should be handled immediately by an eye care professional.
Eye pain coming from behind your eyes can often be attributed to either migraines or sinus pressure/infection. Although neither of these conditions are medical emergencies, they do need to be addressed, particularly if they are severe and recurring.
Pain emanating from around the eyes can signal any of the following:
A stye. This condition starts out resembling a pimple on your eyelid and can eventually cause the whole eyelid to swell.
Computer eye syndrome. Also called computer vision syndrome, this can be remedied by taking more rest breaks during work to refocus and relax your eyes, and setting up your workstation more ergonomically.
Optic neuropathy. This condition is very serious and can cause vision loss.
Contact your eye care provider immediately if you are experiencing eye pain. Prompt diagnosis and treatment can save your sight.